Ruben Huante's checkered past started at a young age.
"Growing up in Southern California, back in the early 60's, my folks would head to Vegas and leave us in the care of the wildest family in the neighborhood," Ruben recalls. "The guys owned built up muscle cars. The girls wore lots of black mascara, smoked cigarettes and had boyfriends with choppers. At night, they would take us to the local drive in to see movies like Hotrods to Hell and Hells Angels on Wheels, then bring us back home, put us to bed, and we'd hear them partying all night. I remember one of the brothers letting me help him hand paint white lettering on his tires. This was years before the tire companies ever did it. Then he would uncork his headers and take me out with him looking for races. I wasn't even 10 yet and I was already into paint brushes and going fast".
"My vision is derivative of all those early years," Ruben says. "I remember the first time I went dirtbike riding at Dead Man's Point, waking up at sunrise, looking out the camper windows and across the open desert as far as the eye could see. I kept asking my friend, 'Can we ride past that dirt road? Can we ride past those hills?' His dad told me,'Kid you can ride as far as you want.' Till this day, I live by those words!"
On and off the track, it was clear that riding and racing was in Ruben's blood." I had three moving violations before I even had my drivers license," he remembers. "But if I wasn't riding on one or speeding in one, then I was drawing one. Art became my life."
It wasn't long before Ruben's artistic hobby turned into a promising career. In the 70s and 80s he began custom painting cars, vans and choppers. His custom paint jobs made the covers of such magazines as, Hot Rod, Hot VW's and Big Twin. He colaborated with custom building legends Tony Carlini and Arlen Ness on projects for many rock n' roller celebrity types.
Kicking off the 90s, Ruben received a BFA in Illustration from Art Center College of Design. "That's where I learned many of the traditional hand-painted techniques I use today: acrylics,oils, water color, wood cuts, scratch board, sumi inks, mixed media, you name it."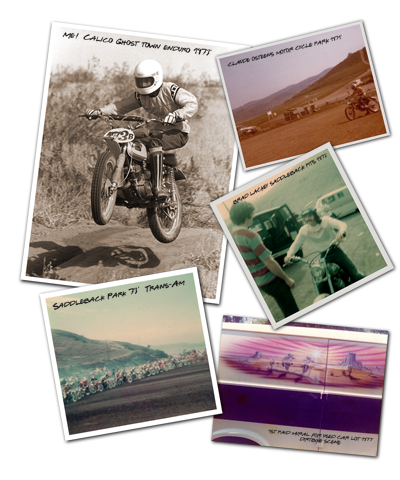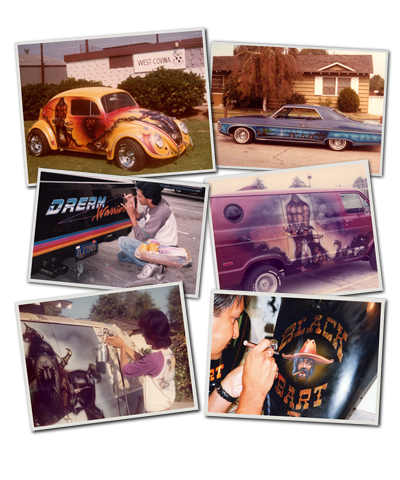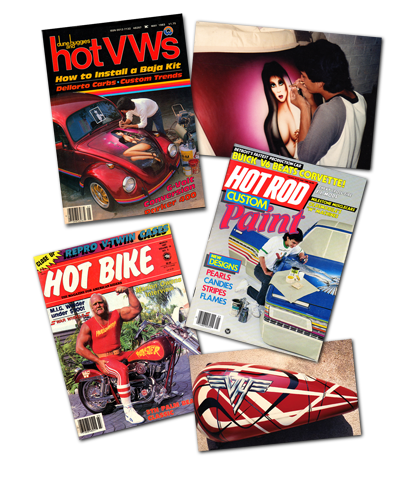 Thereafter, Ruben's client list exploded. He's created artistic concepts for Disney, Warner Bros., Sierra Computer Games, Levi Straus and Harley-Davidson. He's designed rock tour graphics for Metallica, Red Hot Chili Peppers, Paul McCartney, The Black Crowes and Bob Dylan.
More recently (6yrs) Ruben led design efforts for Lucky Brand Jeans as a Senior Graphic Designer. All this leading up to his ultimate challenge along with his partners Todd Peterson and Jack Wright to bring their experience of racing and love of art to the forefront of today's fashion.
"For inspiration I'll be drawing from my heart, my passion, my "Checkered Past....No excuses. No regrets."